How to store dry ice
Store dry ice in a well-insulated container. The thicker the insulation, the slower it will sublimate. Do not store dry ice in a refrigerator or a completely airtight container.
Keep some ventilation around the dry ice storage containers, as the sublimated
CO
2
gas can sink too low and become dangerous.
INSULATED CONTAINERS
An inexpensive Styrofoam cooler from the grocery store will work for a short time. An ice chest used for camping or picnics will also work. A thick polystyrene box such as those used by Omaha Steaks or the insulated boxes from Control Temp Packaging will provide more extended storage. For commercial storage, several companies such as Polar offer a variety of larger containers shown here.

DRY ICE SUBLIMINATION (changing from a solid to a gas) will vary depending on the insulation efficiency and the ambient temperature; on average, figure 10% to 25% loss per day.

CAUTION! Adequately ventilate your dry ice storage area because concentrations of CO2 can build up and be dangerous.

DO NOT   leave dry ice unattended where children or others could take it. You may be liable for injuries.
Professional Companies Offering Storage or Shipping Boxes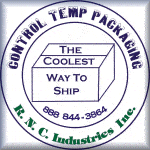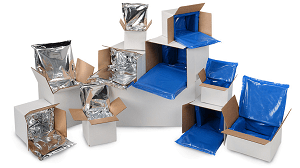 R.N.C. Industries, Inc.
Control Temp Packaging
Insulated Shipping Containers For All Types Of Temperature Sensitive Products
2510 Mill Center Parkway
Suite 200
Buford, Georgia 30518
770-368-8453
https://www.rncind.com/
sales@rncind.com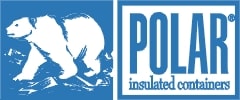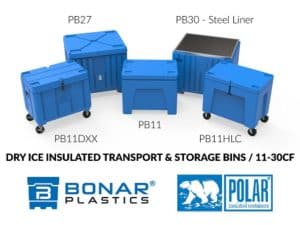 Polar Insulated Products /Manufacturing


1002 Atlantic Drive
West Chicago, Il 60185
Variety of designs and capacities available
in our Polar Insulated Container product line.
Professional Companies Offering Storage Boxes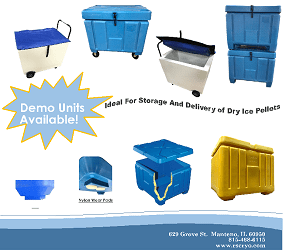 RS Cryo Equipment, Inc.
629 N Grove St. Suite #1
Manteno, IL 60950
Insulated polyethylene & fiberglass dry ice shipping containers, leading by innovation, customer service, and integrity!
Sonoco ThermoSafe is a leading global provider of temperature assurance packaging for the safe and efficient storage and transport of pharmaceuticals, biologics, vaccines, and other temperature-sensitive products.
Rich Pickett
888-674-6461 toll-free
410-480-0005 office
thermokidrp@comcast.net
Thermosafe Brands
HR Insulated Containers
Professional Companies Offering Storage Boxes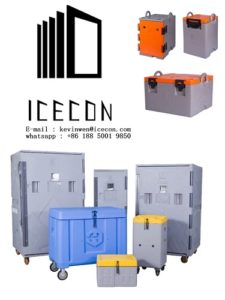 Horeco2 Dry Ice Blasting Equipment & Services Co.
Pelletizer and Block Machines
China